In the digital industry, it is highly uncommon to get a guarantee on files purchased. We feel confident in our applique files that you will appreciate the quality of our design work. We test every design we sell to our customers. If you accidently ordered too many of one appliques, have difficulty sewing, ordered an applique you purchased in a previous order, or are not satisfied with your applique design, its easy to initiate a return! If you are having difficulty sewing one of our appliques, we highly encourage you to trouble shoot the issue and if all else fails, simple initiate the return as follows:
First, you will need to login and navigate to your account page. Click on 'Downloads'. On the next page will be all of your successful purchases that have processed and are ready to download. Find the order containing the download in question. Click on the 'Return Item/s' link next to the 'View Order Details' button like so: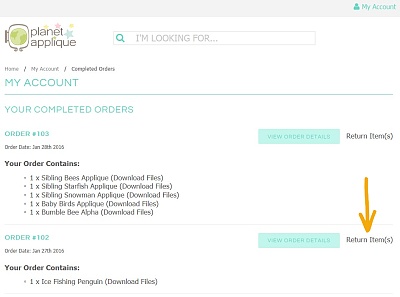 Now select the file/s that you wish to return, the reason, and any comments you wish to communicate to our staff. Remember that if you are trouble sewing a design, please troubleshoot possible issues to fix these errors.
Once you submit your request, you will be taken to a confirmation screen to review your choices.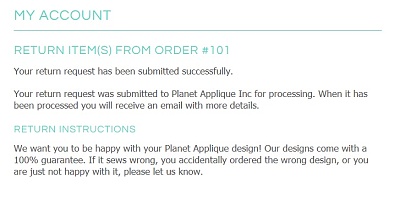 If you made a mistake, please send a message to our staff from your 'Messages' button on the My Account page. After your submission, you will receive a series of emails from our staff approving your return and either refunding or crediting your account with a store credit. It can take anywhere from 24-72 hours for us to investigate your order, the design, and offer a solution and process your return. We also may ask you further questions about your return to help us product BETTER appliques for our customers in the future.
Once your return has been processed, you will get an email communicating that your return was granted. You can also see the return in your Account under Returns.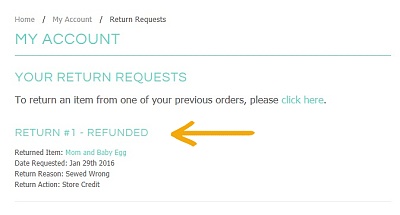 If you received a refund, it may take a few business days for it to show up in your bank account/paypal account. If you received a store credit, you will see your new balance added to the front page of your Account like this: