Downloading From Your Account
You can download your applique files two different ways. Firstly, you can download from your account immediately after payment, if payment goes through automatically. Sometimes, you will need to wait a few moments for your debit/credit or paypal account payment to initiate a status update on your new order. Just navigate to your Account, using the top gray bar on our website. Click on "My Account" and then click on "Downloads".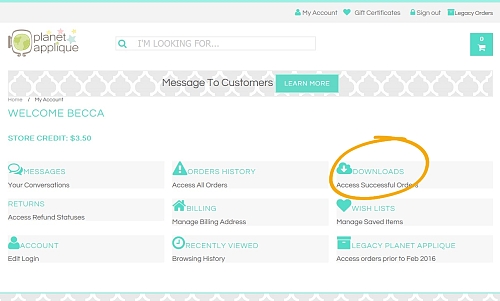 You will see the following: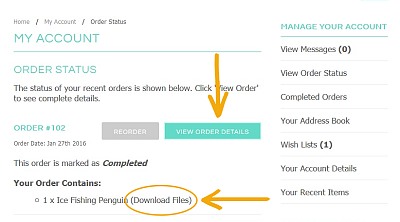 You can click on either 'View Order Details' or 'Download Files' beside the product listing. This will bring you to the download screen. If you are downloading a single design or a simple applique, then you will download a .zip file containing all of the sewing formats together in one file. It will look like this: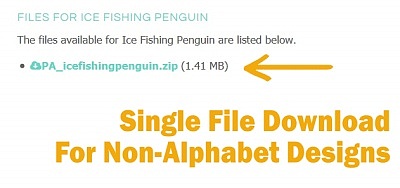 However, if you are downloading an alphabet, such as one of our promotional alphabets that are free with your purchase, or an embroidery font that you decided to purchase, then you will have more download options. You can choose the sewing format to download, greatly reducing the amount of unused data on your personal computer. There is no need to download all the formats as the .zip file would be enormous and download time would be lengthy. Here is an example of an alphabet download page.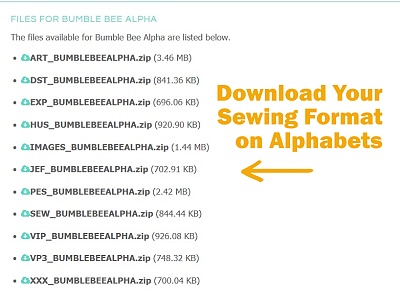 Once you click on the download file, your computer should present a pop up dialog box. Choose 'SAVE' and click ok. The file will then be downloaded to whatever location your downloads go to. Usually this location defaults to DOWNLOADS on your computer. If the dialog box does not appear, you may have a popup blocker enabled on your internet browser. You will need to disable any popup blockers to initiate the dialog box. The dialog box looks like this:
Downloading By Email
Secondly, you can download directly through email. After purchasing, you will receive a confirmation email which will contain your download links. A sample email is shown below showing you the layout and what to look for.