Where Are My Old Orders?
Your purchases placed before February 4th 2016 have been archived into a legacy server. Its easy to access the legacy login area directly here on the website. You can find the link at the very top right hand corner of our website or inside your new account on our new website. By the way, there is no need to create a new account on our new website. We imported all customers. You will however need to reset your password before placing your first purchase on the new website. But for this article lets focus on getting into our older purchases and freebies.
Here you can see ,once you have reset your password to access your account on the new website, that the legacy link also is visible on your main account homepage. The legacy link can also be found in the footer of the website on the left bottom.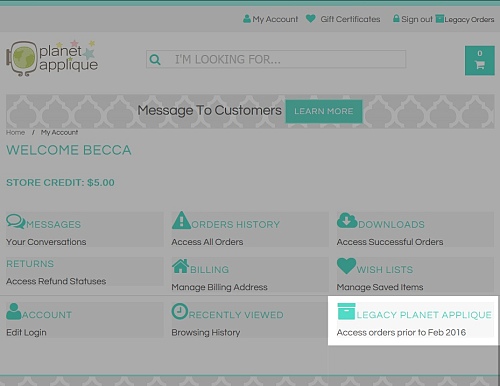 Click on the Legacy Orders Link. On this page you will enter the same email you used for the older website. Note that this email is also used on the new website because we imported you as we previously mentioned. Enter your email and the SAME PASSWORD YOU USED TO USE ON OUR OLDER WEBSITE. And click Login. If you dont remember your password, just click on 'Forgot My Password' and a new one will be emailed to you. If you do not get a password reset email, please contact us so that we can manually reset your old account.
Next you will see a small menu to assist you in navigating your old account. Select 'Order History' from the menu to be taken to all your old orders as well as freebies you earned on purchases.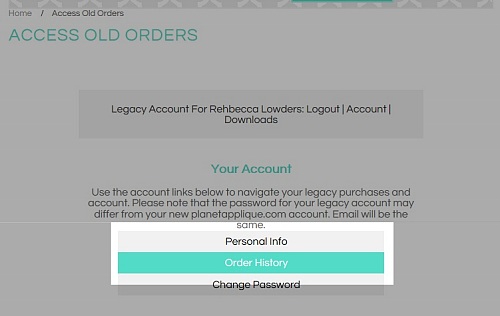 Find the order you need access to and click on it.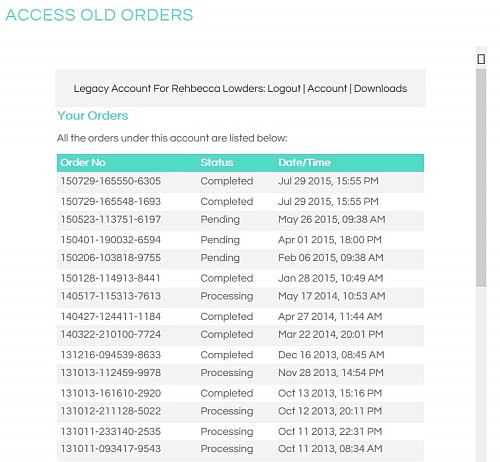 Clicking on an order number will take you to the order download page. From here you can download appliques you have purchased as well as any free alphabets you have earned over the years per order. Just click to download. When you are finished with each order, you can use the gray bar on the page that has your name in it to get back to your main legacy account menu and look at a different order.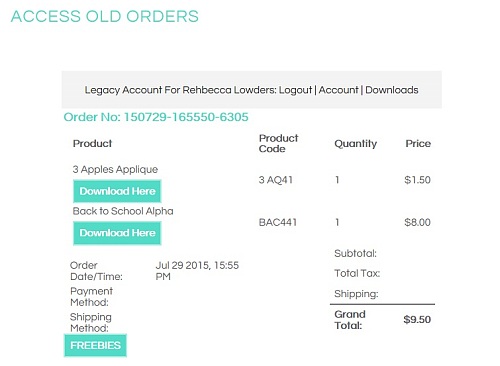 When you are done downloading an older purchase, log out of your legacy account. You can resume browsing the new website and make new purchases if you wish. Remember, if you have been a customer in the past with us, and are placing your first order on our new website, you need to reset your password. It is smart to have it match your old account password, so there is less to remember.