Next Promo:  ITH Pet Vet Quiet Book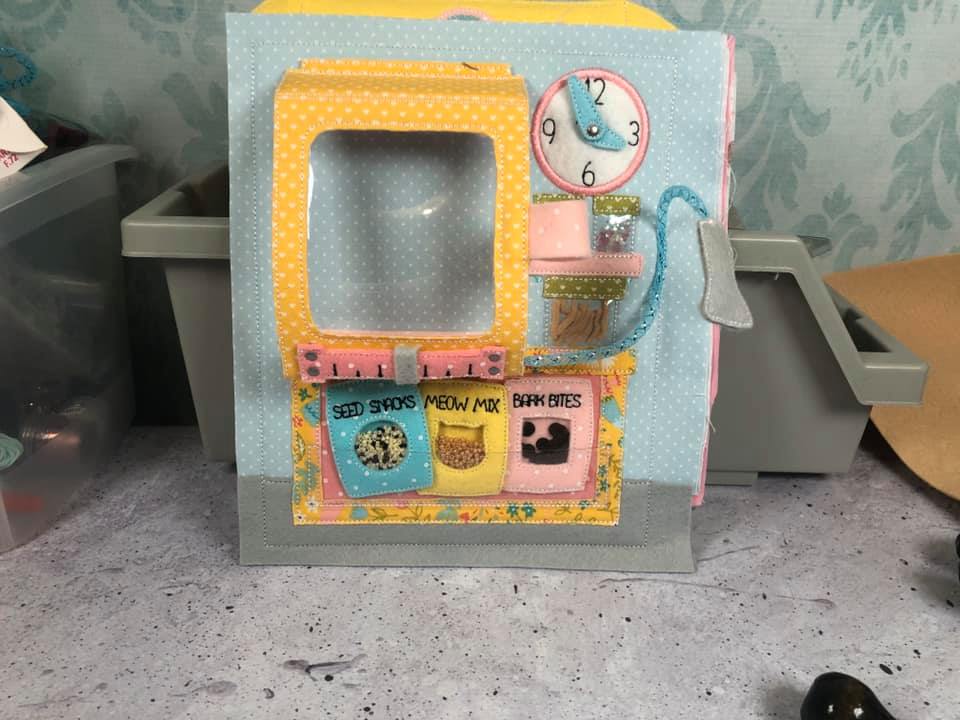 This 6 page quiet book is made in the hoop on your embroidery machine! It will feature a 'store front' cover with a slider panel, an XRAY room, examination room with interactive computer, a critical care room with IV fluids and 'real temperature guage. It also has an adoption panel with window puppets. On the back cover is a lined zipper compartment that will hold all the pets and parts. The Vet Quiet Book will come with a 3D felt doggie, 3D felt kitty, and 3D felt bunny.
Basic Supplies
Felt
Steam a Seam Sheets
Stiff felt or Pellon Sew in Interfacing
Zipper
Water Sol Stabilizer
2 Brass Brads
String/ribbon
Iron
Clear Vinyl
Polyfil
Hot glue gun
Hemostats
Small Beads
Straw or Small Funnel
4 Pony Beads or cord pulls
Optional: double fold binding
Optional: 2 eyelets
Optional: Sewing Machine
4x4 Hoop Makes a 4x4 Mini Book
5x7 Hoop Makes a 5x7 Book
6x10 Hoop makes a 6x8 Book
8x8 Hoop makes a 8x8 Book
8x10 Hoop makes a 8x10 Book
9.5x14 Hoop makes a 9x12 book
10x10 Hoop makes a 10x10 Book
Upon release you will be able to purchase the Vet Quiet Book outright. There will be a coupon code (limited time) that will add a bonus set to the Vet Book. It will feature a dragon, unicorn, an ambulance, and a pet carrier. These addons will be limited meaning that the only way to get them at any time will be through the coupon code during 2 weeks after release. If you do not use the coupon during this time at checkout, the bonuses will not be added to your order. The Bonuses will not be for sale on our website when promos change so you will not won't to miss out!
 To be notified of this release, be sure you are subscribed to our newsletter to receive the coupon code!