Comes with 3D Pet Doggie, Kitty and Bunny Felties
Features popup examination table that collapses when book is closed
Interactive Computer screen displays 5 different images and controlled by felt wheel
Pop up Xray booth holds pets secure, has adjustable slider bar, probe and lays flat when book is closed.
-Xray Page features popup 3D Xray Booth with probe and adjustable slider control
-Clock hands can be moved
-Food Bags can be stored in the table and removed
-Exam Room features a felt wheel that can be turned to change the computer screen dispay
-Pop up exam table folds flat when book is closed
-Can put 3 different Xrays in the Xray holder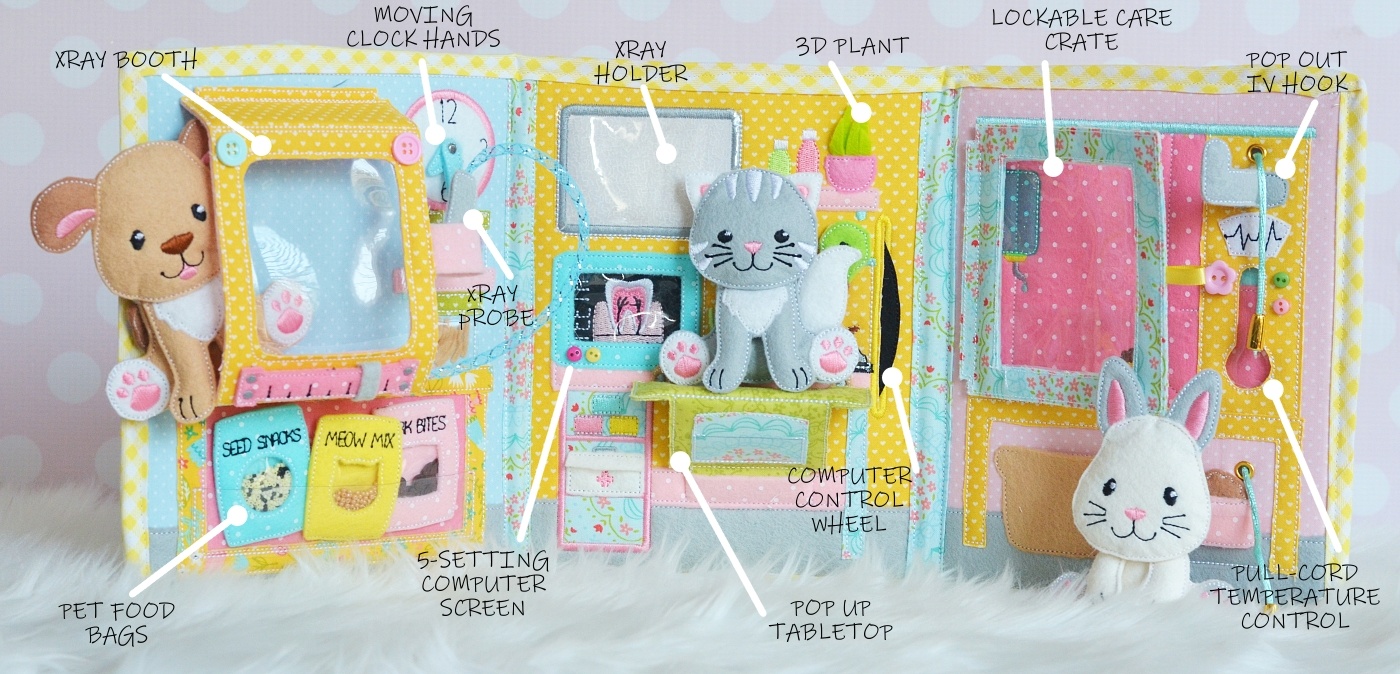 Plant on the shelf can be touched and is 3D
Aquarium holds a removable turtle
Sick pets can be locked in the Crate for urgent care
Adjust the crate temperature with pull cords to make hot or cold
IV holder flips out for use and holds two different IV bags with needle to administer meds or fluids
LIMITED TIME: EXCLUSIVE EXTRAS
Add our new Pet Vet Quiet Book to cart and use coupon:
To receive automatically for FREE our Unicorn and Dragon Felties.
Also get our Exclusive Pet Ambulance. This 3D project is made in the hoop and Felt Pets fit inside! It will not be for sale on our website later on, but you can get it FREE with coupon code:  vetbook
My Go to Designer
I've shopped with Planet Applique for over 10 years and have almost all of their designs!
Keeps Surprising Me!
Planet Applique is different from other designers which is the main reason why I check the site often! There are so many unique and frankly stunning designs. My favorites are the in the hoop!
So Generous
I'm always grateful and amazed at the free designs PA gives us when we order. I always look forward to new releases.
All the Formats
A lot of designer make you choose a machine format when you order, but I'm glad I get them all here because I wont have to reorder since I got a new machine for christmas!
Dolls, Dolls Dolls!
I found Planet Applique when a friend told me about their beautiful cloth dolls! I went out and bought am embroidery machine just so I could make them! Now, I'm addicted!
Cindy S.
I love the designs. They are so easy to follow.
10 Years
Planet Applique has been a go-to of mine for almost 10 years whenever I need a cute, quality design for any occasion. I've never been anything but 100% please with their designs!